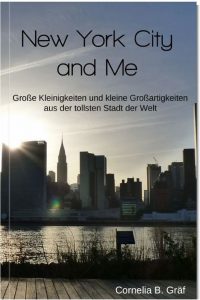 Partly biography, partly episodic travel guide – that's how New York City and Me was created in 2013-2014, first as an online blog, later as a paperback and e-book.
The book offers an intimate and humorous insight into expat life in the hustle and bustle of the Big Apple with both great and rather challenging experiences.
It is available in German for Kindle, Kobo, AppleBooks, Google Play and NookBook. You can get the paperback on Amazon.de or German book stores.
Check out the book's Instagram!